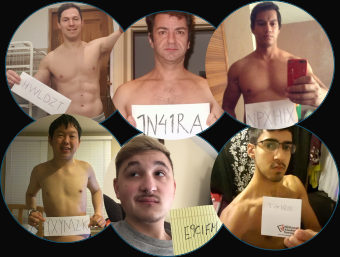 Hello Fighters!
I wish you all a great 2017 filled with all the fights that your hearts desire!
As you all know, with 13,000 members MeetFighters is the biggest (by our not entirely arbitrary metric) fighting personals site. We are dedicated to continue bringing you the best fighting site this year, and we start off with a new feature called Member Verification.
Member Verification helps you search and find only the best genuine guys and easily weed out fakes. It takes only a few minutes to get verified and the process is designed to be as simple, discreet and hassle-free as we can make it. All you need to get verified is a recent profile photo that shows your face and a photo of you showing a special code that proves that this profile photo is indeed you.
Verified members get a small shield icon on their profiles to show their status. You can also use the Advanced search page to search exclusively for verified members.
Big thanks to sleepermuscle for originally suggesting this feature and to MuscleBond for becoming our first verified member!
How Can You Verify Your Profile?
Go to the Administration page, and from there choose Verify profile button under "My Profile".
Who is It For?
Verification is voluntary.
Established members with lots of recommendations and past opponents have little to prove. They too should get verified, though, to put a bit of peer pressure on the rest of us to get verified. We all stand to benefit from verification. Except the fakes. It's super bad for them.
Update: "Faceless" Verification
I've been listening and doing some thinking and I think I have come up with a solution for performing verification without posting a public photo with your face. It is a bit more complex than the simple face validation, but it should still be relatively straightforward. It goes like this:
You post a private photo that shows both your body and your face. Private photos are not shown to anybody, although they can be sent as attachments to your messages. So far your privacy is safe.
You post a public photo that is the exact same photo as the private one, with the face blurred or cropped. Still preserves your privacy, this is what most people do who don't want their faces on this site shown.
Validation will accept a public and the private photo as a pair. You must select both and take a photo with the code with your face so we can perform validation. The private, uncropped version of your photo will be used by our supporters to check that the public, cropped version is indeed you. After, the public, cropped version will become your validation photo, marked with the green shield icon and the private, uncropped photo can be removed from your profile.
What happened here?
At the expense of some complexity (three photos required instead of just two), you preserve your privacy: your face photo is not shown to the general public.
The supporters handling your verification request will naturally need to see your face, but that is minimal exposure.
How do you guys like this version now?
What Comes Next?
We have great plans for this year for improving our site with new features and enhancing existing features. Next on the menu is a search function for your messages.
What happens next is up to you! Please browse the Idea Box and vote for features that you would like to use yourself. You can also submit your own ideas.
– Admin